About CICAF
2013.01.08 15:42:14  

About CICAF
China International Cartoon and Animation Festival (CICAF) is the only state-level professional cartoon and animation exhibition in China, sponsored by the State General Administration of Press and Publication, Radio, Film and Television, and Zhejiang Provincial People's Government. This annual event has been held in Hangzhou since 2005, the capital of Zhejiang Province, a scenic city famed for its legendary West Lake as the World Cultural Heritage.
The 9th CICAF attracts 1.23 million visitors and 472 companies and institutions from 68 countries and regions to attend. It also see the contract signing of 171 projects, involving 13.62 billion RMB(USD 2.16 billion), the sum of project value and on-the-site transaction value.
With the theme of "Animate our city; Animate our lives", CICAF has become a cartoon and animation festival with the largest scale, highest popularity and widest influence in China, and cut a figure in the international stage. Composed by exhibitions, forums, competitions and events, this carnival is looking forward to having all of the guests to come here in Hangzhou and enjoying the wonderful cartoon and animation world.

OFFICIAL GUEST ACTIVITIES OF THE 10TH CICAF COOMING SOON
THE 9TH CICAF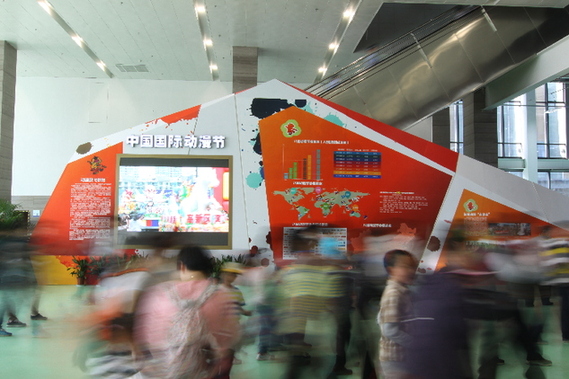 CICAF has experienced 8 editions and will embrace its 9th grand event soon from April 26 to May 1st, 2013. According to the statistics of the previous years, taking the 8th CICAF as an example, it has attracted the honored guests from 61 countries and regions, with 461 companies and 2.08 million visitors here in Hangzhou. It also saw the contract signing of nearly 165 projects involving 10.4 billion RMB (USD 1.625 billion), while the total on-the-site transaction value topped 4.2 billion RMB (USD 660 million), an increase of 14 percent over the previous year.
The Festival aims to promote the continued development of Chinese animation industry, and attracted many animation giants to join in: DreamWorks from USA; Pixar Animation Studio from USA; Publisher Shueisha from Japan; "Angry Birds" Studio Rovio from Finland; Association International du Film d'Animation; Annecy Animation Festival; Film Auckland; European Animation Center; Ottawa International Animation Festival; Kecskemet Animation Film Festival; Animafest Zagreb; Puchon International Student Animation Festival; Asia Content Entertainment Fair; Hong Kong Comics & Animation Federation Limited; Chinese Animation & Comic Publishers Association, etc.
"Golden Monkey King" Award received 1,160 entries in 2012, 30% of which came from outside China. The international entries included works from world-class animation institutions such as Studio AKA in the UK, Film Academy Baden-Wuerttemberg in Germany, and California Institute of the Arts in the USA. Among the entries, 1/3 of the works were from foreign countries such as Japan, France and UK.
The Festival also featured a series of seminars and forums on topics of animation talent training, new trend in animation development, and bottlenecks in current development, etc. Experienced professionals and researchers worldwide were invited to go deep into these issues and share their expertise.
Author: Editor:王剑宜