THE 2014 10thCHINAINTERNATIONAL
CARTOON & ANIMATION FETSIVAL
INDUSTRY EXHIBITION
Exhibition Duration 2014. April. 28 – May. 3
GENERAL INFORMATION                                                                                                         
On Behalf of China International Cartoon and Animation Festival Exhibition Co.,Ltd, We would like to welcome you as an Exhibitor at the 2014 10th CICAIE Hangzhou, China.
CICAF has a main venue of 80,000 square meters, holding the professional activities like Industry ExhibitionAnimation Tran, International saction Fair. CICAF will embrace its 10th grand event soon. According to the statistics of the previous years, taking the 8th CICAF as an example, it has attracted 1.23 million honored guests and 472 companies and institutions from 68 countries and regions to attend. It also see the contract signing of 171 projects, involving 13.62 billion RMB(USD 2.16 billion), the sum of project value and on-the-site transaction value.
It is always our pleasure to be of service to you, we wish you a great success in our exhibition.
Exhibition Organizer:
China International Cartoon and
Animation Festival Exhibition Co.,Ltd
April, 2014
MAJOR EVENTS                                                                                                            
ⅠBusiness Negotiation
Animation Industry Transaction Fair

Professional Visitors' Day
ⅡForum & Competition
2014 International Animation Festivals Summit Forum

"Golden Monkey King" Award Competition
Core Forum, Master Class
ⅢInteraction Activities
LELE Extracurricular Activity Zone

Model Display: 10-years,toys with our growth

Celebrity Cartoonist Autograph Signing
ⅣBusiness Cooperation
•HIGHLIGHTS OF EXHIBITION                                                                                                        
HIGHLIGHTS OF EXPO
1.The 1st Animation Comic and Game Exhibition (ACG)
2.Animated film related events, capitals,cinemas,projects...
3.Cross-Industry Trading Fair
4.A brand-new online trading system
8-YEARS' FOOTPRINT OF EXPO                                                                                             
| | | | | |
| --- | --- | --- | --- | --- |
| Time | Area | Visitors | Exhibitors | Turnover(RMB) |
| 2005 1st | 20,000 m2 | 120,000 | 120 | 800 million |
| 2006 2nd | 46,000 m2 | 280,000 | 130 | 2.2 billion |
| 2007 3rd | 46,000 m2 | 430,000 | 260 | 4.1 billion |
| 2008 4th | 60,000 m2 | 670,000 | 280 | 4.1 billion |
| 2009 5th | 60,000 m2 | 800,000 | 300 | 6.5 billion |
| 2010 6th | 60,000 m2 | 1,610,000 | 365 | 10.6 billion |
| 2011 7th | 60,000 m2 | 2,020,000 | 425 | 12.8 billion |
| 2012 8th | 65,000 m2 | 2,080,000 | 461 | 14.6 billion |
DESTINATION GUIDE                                                                                                                      
HANG ZHOU,the capital of Zhejiang province with the sub-provincial administrative level, is the center of provincial politics, economy, culture, science and education.
Hangzhou locates close to China east coast, as a famous scenic city in China, Hangzhou attracts more than 20 million domestic and foreign tourists every year. In the Yuan Dynasty, the famous Italian traveler Marco Polo described this city as the finest and most splendid city in the world.
Show Venue: Cartoon & Animation square of White Horse Lake,
Add: Changjiang Road No.336, Binjiang District, Hangzhou, Zhejiang 310053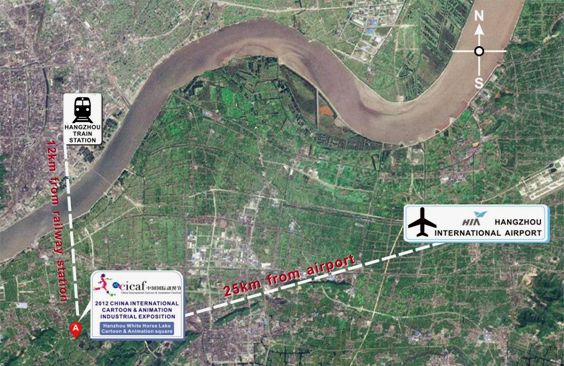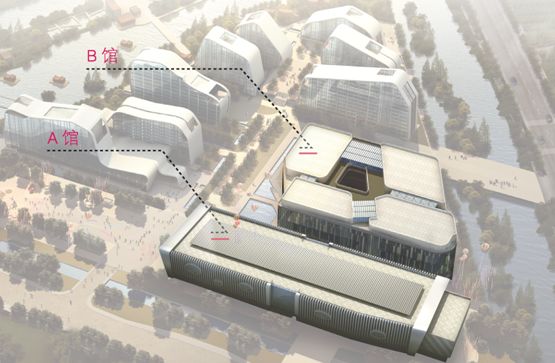 EXHIBITION PROCEDURE                                                                                                    
Information Obtaining and Consultant
Marketing: Ye Wangwang , Zhang Yue
Tel: 00 86 (0)571 85099236 00 86 (0)571 85089297
Fax: 00 86 (0)571 85094639
E-mail: yww@cicaf.com
zhangyue@cicaf.com
Booth Booking
After booth confirmation and contract establishment, payment should be completed within the required time.
DOWNLOAD: CICAIE 2014 MERCHANT LEAFLETS
Booth Confirmation
Upon receiving the payment, the Organization Committee will send out
the'Confirmation Letter'and'Exhibitor Manual'.
Exhibition Materials Submitting
Providing information for the'Exhibitor Manual'and other stipulated documents; and signing the'Letter of Commitment'.
Booth Arrangement
Submitting the booth arrangement plan according to the'Exhibitor Manual', timely following CICAF Official Website and finishing all the exhibition procedures in CICAF one-stop premise
BOOTH RATES & SPECIAL OFFER                                                                     
Booth Rates
| | |
| --- | --- |
| Booth Location | Booth Rates(RMB) |
| A1 Pavilion | Rates for unfurnished area: 750Yuan/ m2 |
| A2 Pavilion | Rates for unfurnished area: 700Yuan/ m2 |
| B1, B2 Pavilion | Rates for unfurnished area: 650Yuan/ m2 |
| B2, B3 Pavilion | Standard Booth(3m×3m): 6800Yuan |
Remarks
1) Rates for unfurnished area: total= unit rate * ordered area(m2)
2) The minimum rental for unfurnished area is 50 m2
Early Bird Special Offer
1) All the companies that book the booth within January 1st 2014 will have a 20% -OFF Discount on the whole price of the booth.
2) All the companies that book the booth within Feb 28th 2014 will have a 10% -OFF Discount on the whole price of the booth.
Notes
1) The applicant shall provide for payment, in any case, before the beginning of the Expo. The applicants' payment date shall subject to CICAF Organizing Committee's acceptance of the money that paid in full.
2) The Early Bird Special Offer's claim shall subject to the final issuing of the Booth Confirmation Letter from CICAF Organizing Committee.
VENUE LOCATION & PLAN FOR PAVILION                                                       

THE 2014 10th CHINA INTERNATIONAL
CARTOON & ANIMATION FETSIVAL
INDUSTRY TRANSACTION
Transaction Duration 2014. April. 28 –April. 30
GENERAL INFORMATION                                                                                     
The Animation Industry Transaction Fair is one the most professional activities in CICAF, which contains International Animation Film Transaction Fair, Investment Negotiation Fair, and Animation Derivatives Transaction Fair, etc. With its dynamic development and supportive function, the Animation Industry Transaction Fair is aiming to build the nation's largest and best cartoon and animation trading platform.
2.1 MAJOR EVENTS                                                                              
1. Project Releasing
2. Cross-Industry Meeting
An opportunity for animation companies to have a close talk with companies inrelated derivative industry including toys, clothing, commodity and food.
3. Customized Business Meeting Service
Special customized business meeting service for groups or delegations from countries, cities and industries.
4. Offline Negotiation
Provide negotiation area during the 10th CICAF. Any private online appointments or system automatic matching groups could have face to face talks in desighnated areas. Any successful signings could apply for Cicaf official publicities.
2.2 ONE-STOP SERVICE ONLINE                                                              
China International Animation Trade Net:
PROCEDURE ONLINE
① Registration
② Information Releasing ,Products /Work(s) Display
③ Automatic Matching System
④ Meeting Reservation
⑤ Offline Negotiation
⑥ Activities Applying *Materials Submitting should be completed before deadline.